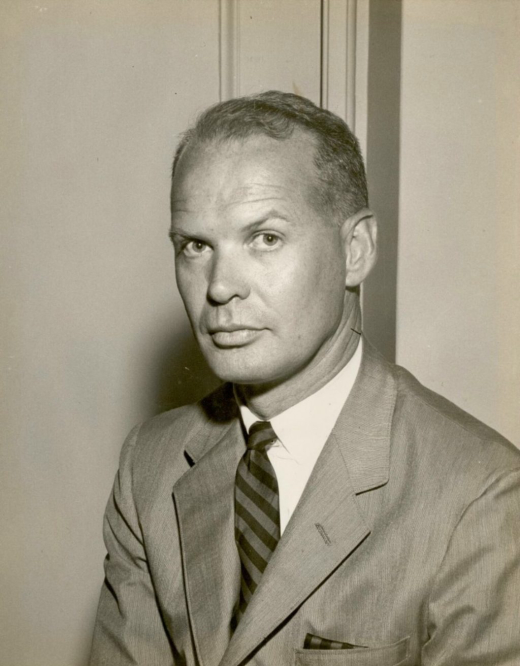 Dates
1921(Birth)
1979(Death)
Biography
Duane Conner was born in Oklahoma City in 1921, but because his father, Will, was a teacher and principal in rural school districts, the family moved around the state often in his childhood. The Conner family finally settled in Stillwater when Will took a job with the university as an extension cooperative coordinator. Duane graduated from Stillwater High School and received a degree from the architecture school of Oklahoma State University (then Oklahoma A & M) in 1941, right as the United States was about to enter World War II. Conner was classified 4F but was soon recruited to work as a design engineer for the top secret Manhattan Project in Oak Ridge, TN, where he and his young family remained for the duration of the war.

After the end of hostilities, Duane returned to Oklahoma City and went to work for the firm of Coston & Frankfurt. It was there that he met up with an old college classmate, Fred Pojezny, and the two decided to form their own firm, Conner & Pojezny. Soon after they teamed up, the two men found quite a bit of work in Oklahoma's post-war boom economy. They began work with Edmond's University of Central Oklahoma, then known as Central State College, constructing the Y-Chapel of Song (now on the National Register of Historic Places), the Fine Arts building, and the former Student Union building - as well as different school buildings around Oklahoma City. One of their home designs was featured in House Beautiful magazine in 1952. Their Mid-Continent News Building - now torn down - was featured in several architectural magazines, including one in France. In 1955 the firm received its most ambitious assignment - from Conner and Pojezny's own church. The First Christian Church went through a number a redesigns and it was during this time that the two partners decided to go their separate ways.

Duane completed the church and set up shop on his own, focusing on "creative progressive design based on advanced technology and construction economics," according to one article. He remained in practice until his death in 1979.

Projects:
Conner House, Oklahoma City
Glasgow House, Edmond
Mid-Continent News Building, Oklahoma City
Y-Chapel of Song, University of Central Oklahoma, Edmond
Student Union, University of Central Oklahoma, Edmond
Electri-Living House, Oklahoma City
Coley House, Oklahoma City
Miskovsky House, Oklahoma City
First Christian Church, Oklahoma City
First Christian Church, Del City
Frederickson Fieldhouse, Oklahoma City University

Sources:
Lynne Rostochil, okcmod.com
"Modernist Architect R. Duane Conner's Buildings in Oklahoma Withstand Test of Time," The Journal Record, June 23, 2010. Accessed via questia.com.