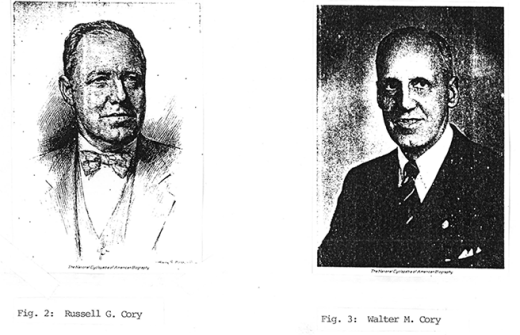 Biography
Russell Gherdes Cory was born in Jersey City and attended the night school of the Cooper Union, receiving an electrical engineering degree (1910). While attending school, Cory was employed by Cyrien 0. Mailloux, a consulting engineer. Cory established an independent architectural and engineering practice in 1908; in 1920 he was joined as an associate by his brother Walter, who became a partner in 1924 in the firm known as R.G. & W.M. Cory. Russell Cory served as president of the firm throughout its existence. Specializing in industrial buildings, Russell Cory's first known major conunission in New York City was the American News Company Building (1923-24, 131 Varick Street), a loft structure with vertical articulation and colorful tiles (now painted). The New York Dock Trade Facilities Building (1928-29, East River at Joralemon Street, Brooklyn; Russell Cory, architect and engineer, Walter Cory, associate, and N.E. Driver, chief engineer) is credited by noted American engineering historian Carl Condit as the first "vertical street" type industrial structure, having a central utilities core with elevators that carried trucks to each floor. Russell Cory received patents for several aspects of this concept in 1929 and 1933. While a functional precursor to the Starrett- Lehigh Building, with railroad tracks and freight terminal serving the building and undivided floor space above, the New York Dock Trade Facilities Building was architecturally typical of industrial buildings in the 1920s, with its cellular grid of fenestration and vertical piers. The Starrett-Lehigh Building marked a distinctly new and "modern" direction for Cory & Cory. After Starrett-Lehigh, the Corys designed the Cashman Laundry Corporation Building (1932, Gerard Avenue and East 140th Street, the Bronx) employing a variation on the exterior architectural treatment and cantilever construction of Starrett-Lehigh for a small three-story building. Russell Cory was architect of a notable complex of one-story Moderne style buildings for the Johnson & Johnson Company (1940-41) at its plant near New Brunswick, New Jersey. Buil t of light- colored brick, tile, and marble with horizontal strip windows, these included the Personal Products Corporation and Industrial Tape Corporation Buildings and Ligature Laboratories. Designed according to Cory's belief that "factories can be beautiful. .. discarding all preconceived ideas of a factory, a building has been produced which is far removed from the most advanced conception of what constitutes even an ultra modern factory." Russell Cory retired from architectural and engineering practice in 1942 and dissolved the firm.


Walter Monroe Cory (1888- ?), born in Watsessing, New Jersey, also attended the Cooper Union night school and received an electrical engineering degree (1920). Beginning in 1909 he worked in his brother's firm as a draftsman, designer, and project manager. Serving in the U.S. Army in 1917-19, he worked for a time in construction and maintenance for the Ordnance Department. Returning to practice, he became an associate of his brother in 1920 and was project manager for the American News Company Building and a building for E.R. Squibb & Sons. From 1924 until 1934 Walter Cory was a partner in the architectural and engineering firm of R.G. & W. M. Cory. Moving to Florida, where he was also active as a consultant, he participated in the development of the Apshawa Groves, Inc. citrus company in Minneola (of which Russell was president). Walter resumed practice as an industrial architect-engineer in 1936 and returned to New York City in 1942. Specializing in the design and modernization of industrial plants, particularly for the beverage industry, he produced designs for Canada Dry Ginger Ale, Inc. and the Coca-Cola Bottling Company throughout the United States, Canada, and Cuba, as well as for the F.L. Smithe Machine and Underwriters Salvage Companies in New York.
Source:
Starrett-Lehigh designation report by Jay Shockley for the NYC Landmarks Commission, 1986.