Bertrand Goldberg
Architect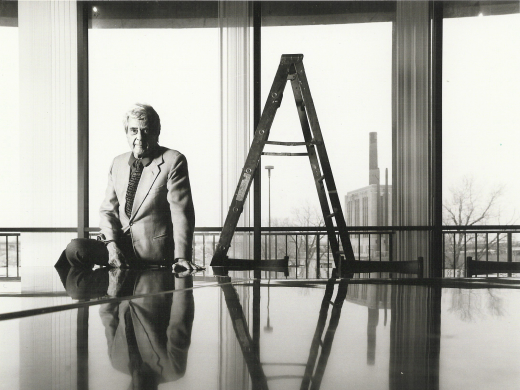 Dates
1913(Birth)
1997(Death)
Biography
Bertrand Goldberg was born in Chicago in 1913. He grew up in Chicago and attended Harvard College in 1930 for two years before leaving for The Bauhaus in Germany. He worked briefly in the office of Mies van der Rohe.

Goldberg returned to Chicago in 1933, and worked for the Keck brothers. In 1937, Goldberg opened his own office.

During World War II, Goldberg worked for the government and developed portable medical labs and gun crates. After the war, he formed a partnership with Leland Atwood, which lasted through the early 1950's, when Goldberg started the firm of Bertrand Goldberg Associates.

Early in his career Goldberg focused on single family residences and industrial design work. His last single family residence was completed in the 1950′s. Throughout the 1950′s, his design proposals covered a broad spectrum: union halls, art centers, office buildings, and residential developments. In 1957, Goldberg built Drexel Gardens on the south side of Chicago, an award winning project.

In 1959, Goldberg started work on Marina City. This project, the seminal work of his career, was finished in 1967. At the same time, another major commission, Astor Tower Hotel, was started.

Throughout the 1960's and 1970's, the office of Bertrand Goldberg Associates grew significantly – including in-house engineering and computer software development. Design work focused on numerous large scale hospitals and other major institutional projects up until 1992. Parallel work on urban projects was more exploratory and speculative, and culminated in River City, a successful mixed use development on the Chicago River completed in 1986. The office's last major built work was Wright College, completed in 1992. Bertrand Goldberg died in 1997.
More information about Bertrand Goldberg
Bertrand Goldberg's Sites