Amaza Lee Meredith
Architect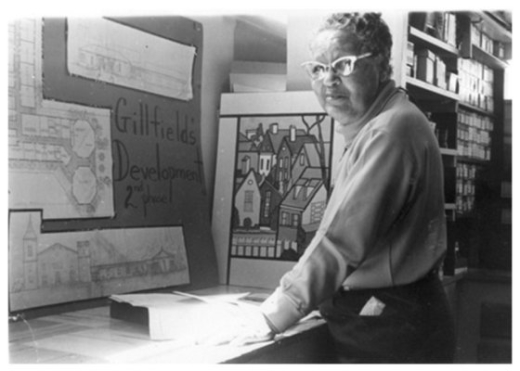 Dates
14 August 1895(Birth)
1984(Death)
Biography
Amaza Lee Meredith was a trailblazing African American architect, educator, and artist. Prohibited from receiving formal training as a professional architect, because of "both her race and her sex," Meredith worked around those societal restrictions. She founded the art department at Virginia State College for Negroes [now Virginia State University] and designed many of the houses of her family and friends. Her resilience came to fruition in 1938 when she designed her most renowned structure, Azurest South. Hailed for its International Style, more today than when erected. Azurest South, located on the campus of Virginia State University, is on the Virginia Landmarks Register and National Register of Historic Places. Upon its completion, Amaza and partner Edna Meade Colson moved in and lived together for the rest of their lives.

Meredith was born in Lynchburg, Virginia on August 14, 1895 and was the eldest child of Samuel Meredith and Emma Kennedy. Her father, a respected carpenter, was white, and her mother black, but anti-miscegenation laws in Virginia banned interracial marriage. Determined to legalize his relationship with Emma Kennedy, the two journeyed to Washington, D. C. in racially segregated railroad cars to be married. Subsequently, Samuel Meredith lost much of his business, apparently as a result of the marriage. He took his own life in 1915, which was the same year Amaza graduated at the top of her class from Jackson Street High School. She obtained her teaching credentials from Virginia Normal and Industrial Institute, now Virginia State University in Petersburg, Virginia. Meredith later received a bachelor's and master's in art education from Columbia University.

In her first summer at what was to become Virginia State University, Meredith met Dr. Edna Meade Colson, daughter of James Major Colson III, one of the Institute's founding faculty members. Dr. Colson, Meredith's senior by seven years, had degrees from Fisk College and Columbia University. She belonged to a well-educated, upper-middle-class family, descended from free blacks. Meredith and Colson were each to become highly respected members of Virginia State's faculty as well as lifelong companions. Amaza died first in 1984, then Edna in 1985 – they are buried alongside each other in Petersburg, Virginia.

Although Azurest South was her most lauded design, it was not her only project. Amaza and her sister Maude Terry worked together to create a prideful vacation destination for Black Americans. As segregation still had a stronghold on the status quo, Maude and Amaza eluded the rigidity of the system and challenged it with the opposite; leisure. Middle-class blacks from all professions vacationed to what was known as "Azurest North" in Sag Harbor, NY, and still do to this day—some having called it home for decades. The Azurest subdivision in Sag Harbor is now being considered for listing in the State and National Registers of Historic Places.
Amaza Lee Meredith's Sites